The re-visualisation of images is important for the expert user who immediately sees "what's going" as Prof. David Wilkinson of UCL said when he saw these re-visualizations of stem cells: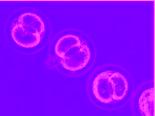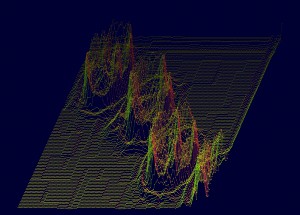 Once the expertise is embedded in a smart knowledge portal, the less skilled  user will operate selection criteria to find the odd ones out, based on numbers provided  by the software, for individual images and series.
The re- visualisation is important, for experts will spot more differences in our 'visual 3D' where a number of viewing parameters can be changed. The quantification is important, for our 'software vision' in 'metric 3D' allows for Automating Image Analysis, i.e. high throughput processing.
I used these four images from the infrared and thermal imaging company FLIR to illustrate the innovations that my prototype software can offer. Please click here to view 17 slides. Another set of images came from IMAGEN-Biotech's website.
This is one of the seven images that is being re-visualized and viewed with different parameter settings. The resulting 20 slides are here. Next: Layering Complex Data.